Best Adult Halloween Celebration Ideas
19 October 2023
Don't listen to the fun police: Halloween isn't just for children. In fact, historically, it was a holiday for adults. You don't know that, do you?
Halloween is the time when you could be anything or anyone you wanted to be, like a sexy vampire or a ninja, or some sort of a vampire-ninja hybrid. But now you are too adult and mature: thinking you cannot have fun unless it's appropriate or somewhat productive. Hell no! You are never too old to be scared and you should ask yourself – Halloween is coming, so are you cumming too?
So if you're looking for top tips on how to celebrate this Halloween, you've landed on the right blog post.
Trust Me, You've Earned a Break!
By Q4, you have laboured for 302 days, toiling endlessly with more and more working hours and fewer vacations. You struggle in the tunnels of middle management, swimming in pointless reports and paperwork, and working more than you damn well should, to bring bread and butter to the table for yourself and family. Trust Me, You've Earned a Break!
Although you might be too old to wander around the neighbourhood collecting candies with a pillowcase to feed your family, you definitely deserve a break! So fill your day with sweet treats and tricks, dress up in your favourite costumes or pyjamas, devour those candy bars like a big boss with pride.
Host a Murder Mystery Dinner
Why not also treat yourself with some fun spooky games? Halloween is not just about trick-or-treat or pumpkins. One of my favorite Halloween memories was attending my neighbor's most ghoulish and fun Murder Mystery Dinner - still vividly remember who killed my character whilst also cheating with my cheeky neighbor. In case you've never joined a murder mystery dinner before, you have no idea what you are missing. Fun party kit, interesting characters with background stories combined with fine dining, what's not to like? Dressed up in costumes to figure out "who done it", it will be an unforgettable and entertaining night for all your friends and family.
Don't want to bother and be the host? Even better, there are many murder mystery games and events in your locations wherever you are. Simply, open the yellow pages and roll the dice!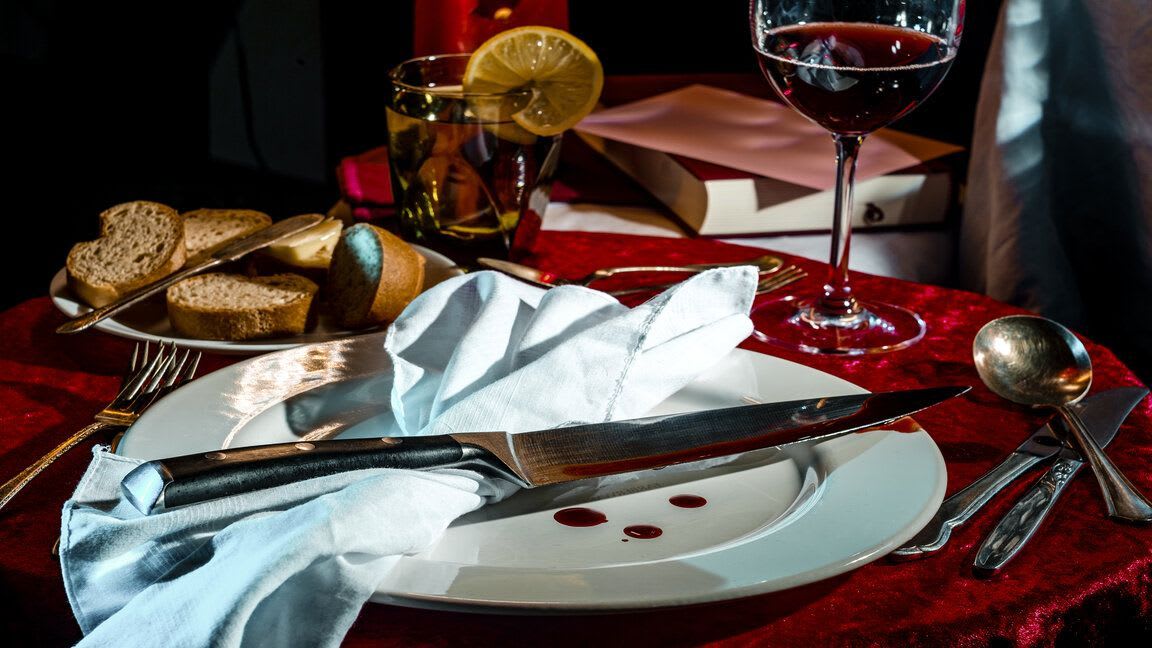 Have a Scary Movie Marathon
Apart from stuffing your face with all your favorite Halloween candies, it's hands-down the best time for a scary movie marathon - Hocus Pocus and Halloweentown would be a good start. After all, what is Halloween without scaring ourselves silly with the most classic horror movies of all time? So gather your Halloween spirt, cozy up in your spot and celebrate the spookiest night of the year with Michael Myers, Freddy Kureger, or whoever you fancy... if you dare!
Halloween Sex Parties – The Sexier And Scarier, The Better
Halloween is definitely the best occasion to safely flaunt all gender norms. So get ready for the sexy season of mind-blowing orgasms. Throwing away all the inhibitions, transform yourself into whoever and whatever you want to be under a mask and some sexy costumes.
Whether you are into couples play or group sex, Halloween sex parties fit it all. It is also a fun way to meet new people, test new sexual boundaries and embark on new adventures in a safe and consensual manner.
The first thing to do is decide what kind of event fits you best: premium events for couples, threesome, singles or women-only. There are even virtual events held for members all over the world –pushing the limit of sex with who, how and where to a completely new level. Literally, the sky is the limit. Remember (safety first): the sexier and scarier, the better!
I still fondly remember my first play party. So we were in this entertainment room, and I was very tipsy. Next thing I know, I was making out with a stranger, and a woman (the fiancé) literally started cheering. 'Honey, your dreams are coming true,' she said. I stopped because I was entirely confused, and apparently I was their top choice to have a threesome with at the play party. I was like f*ck it, and we decided to go through with it anyway and I totally enjoyed it!
However, if no one you know is hosting a party, here is how to host a play party for you.
Couples Date And Play Night
There are many fun activities for couples to get involved in during Halloween week and on Halloween night. Why not treat yourself and partner with a date & play night full of passion and sexy trick & treats. Whether you are a sexy vampire or Batman, use costumes and role play to be a fun version of yourself and give your partner an excuse to date and play with someone who's not their type. It is also the perfect chance for you to step out of your identity and wear someone else' skin (no pun intended).
For some, the key to explosive orgasms is role play. For others it's sex toys. Or maybe it's just trying a different type of sex or finally trying something on your sex-position bucket list (here is looking at you - The Pretzel Dip). Whatever your trick-or-treat is, Hot Octopuss got you covered. Yup Hot Octopuss is going all out for the holiday which means it's the perfect opportunity for you to stock up on a few essentials. From best couples vibrator such as PULSE DUO LUX to PULSE SOLO ESSENTIAL (male masturbator of the year) to BDSM essentials and more, Hot Octopuss has a wide range of goodies and toys to get your ready for your sinful play on Halloween night.