12 unusual myths about the penis: fact or fiction?
16 February 2022
Ready for some hard facts? Well, not to sound cocky or anything, but we've done the research so that you don't have to!
You know, things like: does a man's shoe size actually give some insight into what's inside his pants? Does smoking make your erections smaller? And is it actually possible to 'break' your penis?
That, and so much more, to come…
1. Fact or Fiction: Your Penis is Double the Length You Think it is
Fact! Gentlemen, we know that penis size is a touchy subject. On the bright side, whether you're 2 inches or 9, your penis is actually twice as long as you think it is! That's because basically half of it is located inside of the body! We know, no fun! It serves a purpose though! Safe and sound, the hidden part of your penis is well-connected to the rest of your anatomy. And if you're wondering, it's almost boomerang-shaped and is a mass of pink erectile tissue.
2. Fact or Fiction: Your First Erection Happens in the Womb
Fact! Albeit a little strange or even weird to fathom, baby boys that are snug inside the womb are capable of achieving an erection. In actuality, some babies exit the womb with one! This is because of the nifty sleep cycle, REM (Rapid Eye Movement), with the trend of night time erections following men throughout their life (whether they're dreaming about something sexual or not). Why do men have three to five erections throughout the night, you ask? Good question! Well, it's to keep this important member in shape, and to maintain its elasticity.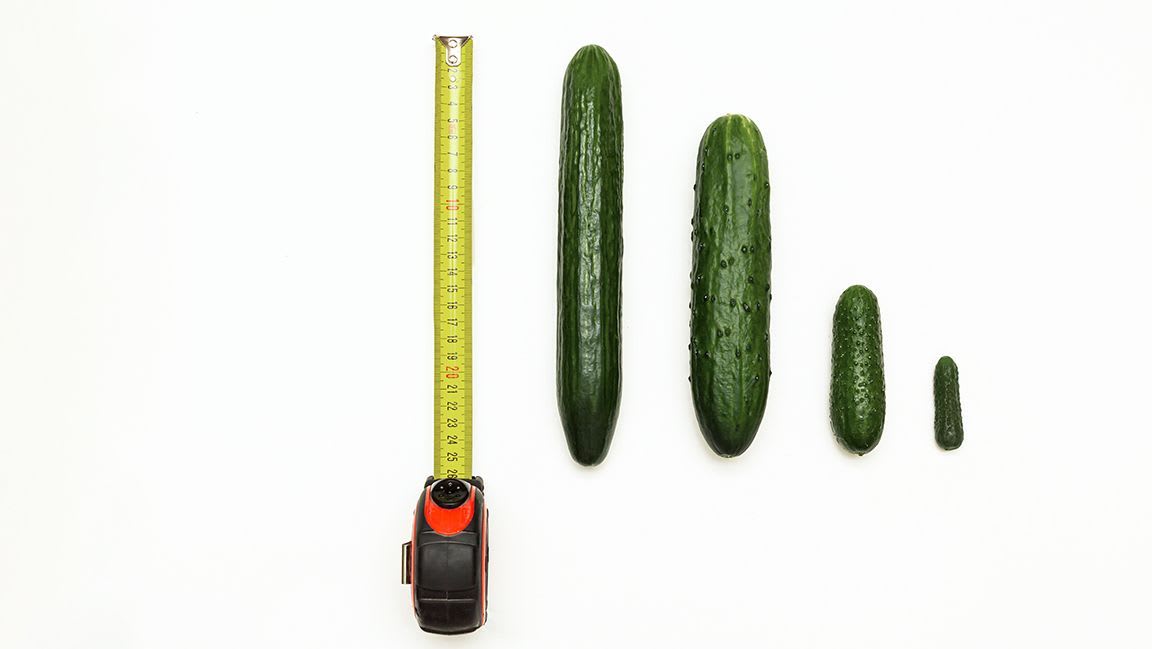 3. Fact or Fiction: Smoking Affects Size
Fact! Essentially, achieving an erection is when blood floods to the penis, causing it to become erect, right? So, has there ever been a time where you were 'ready to perform' yet to no avail? Perhaps it's those heavenly puffs you're taking after work or during stressful periods. You see, smoking actually narrows the arteries… including those that transport blood to the penis. With a lack of blood flow, well… your erections may just become smaller than usual or even non-existent. They should put those on the back of cigarette packs!
4. Fact or Fiction: Length Matters!
Fiction! Well, according to women, that is. Despite this, men around the world continue to experience all kinds of insecurities and stress related to their size. In a survey of 170 women however, the majority answered that penis length wasn't all that important to them. On the other hand, a separate study showed that 90 percent of women admitted that a thicker girth added to their sexual pleasure.
5. Fact or Fiction: It's Impossible to 'Break' Your Penis
Fiction! While there is no 'bone' in your boner (da), you can technically break your penis! You see, when you're aroused, there are tubes that fill up with blood. And if one of these tubes burst, by say being violently twisted or bent, the blood will pour out of it and inside the penis, causing intense swelling and pain. Sure, it is a rare occurrence, but penis-owners beware: one third of cases occur when a partner is on top!
6. Fact or Fiction: Meditation Can Enhance the Size of Your Erection
Fact! Isn't it simply amazing how the body works? For example, if you're really stressed or anxious, your body will tense up causing the tissue surrounding the penis to contract. This is, of course, no good when it comes to getting hard! But, if you're deeply relaxed, say… in a state of meditation, the muscles will relax causing the arteries to open up wide and welcome a rush of blood to the penis, creating bigger and more powerful erections.
7. Fact or Fiction: Sex Toys Such as Cock Rings Increase The Size of Your Penis
Fact! Cock rings aren't just super handy for getting and keeping an erection, they also facilitate larger erections! This is because they restrict the outflow of blood by compressing a vein, thus trapping it inside the penis, creating rock hard and amazing erections. Side note: cock rings aren't just a boost when it's time for your member to stand at attention! Hot Octopuss JETT & Atom Plus Lux Cock Ring, for example, is pleasurable during solo play, as it massages and teases the perineum and the top of your shaft with cheeky vibrations. It's also a treat during penetrative sex, giving your partner the best of you whilst experiencing the latent sensual buzzes.
8. Fact or Fiction: Big Shoes… Huge Member!
Fiction! Penis-owners with small shoes can finally let out a sigh of relief, as there is absolutely no correlation between the size of a man's shoes and their penis length. Yes, a study was done on it and everything! "Penis size is not correlated with or predicted by shoe size or any other body part for that matter. Penis size is determined by a combination of genetics and environmental factors, mostly in the utero," said sexologist, Dr. Jill McDevitt. Well, there goes the index finger to ring finger ratio myth too then!
9. Fact or Fiction: Men Can Control When They Ejaculate
Fiction! You've probably seen a scene in a film or TV show where a penis-owner is trying their best to delay ejaculation, either by thinking of something unsexy or focusing on something other than the task at hand. But actually, there's really no point! This is because the brain isn't even involved when it comes to ejaculation. The signal to ejaculate comes from the spinal ejaculator generator, which is a region in the spinal cord that coordinates the necessary functions. Word of advice? Rather leave thoughts of grandma and grandpa out of your lustful sessions! And seeing as you can't control your ejaculations, why not make them infinitely better? Transform your solo sessions and slide into the multi-award winning Guybrator, Pulse Solo Essential. This bad boy will treat all penis-owners to a hands-free masturbation session without the need for stroking! It's powered by high-amplitude oscillations using PulsePlate Technology… some super cutting edge stuff!
10. Fact or Fiction: Kellogg's Corn Flakes Was Invented to Prevent Masturbation
Fact! It may seem absolutely outlandish (and, well, it is), but the well-known cereal Corn Flakes, was invented by Dr. John Harvey Kellogg in an attempt to reduce the "sin" of masturbation. He believed that eating plain foods would reduce feelings of arousal, and that devouring food that was too delicious, such as meat, would inspire impure thoughts and actions. What's even more hilarious is that the biggest fight experienced between Kellogg and his brother was whether they should add sugar to the cereal, which would vastly improve the taste. Alas, the cereal hit the shelves sans sugar, plain and boring, in hopes of killing all senses of sexual desire.
11. Fact or Fiction: You Have to Keep Your Penis in Shape
Fact! As the saying goes: "move it or lose it!", and the same applies for your penis, believe it or not. Indeed, penis exercise (aka getting an erection regularly) is imperative to being able to achieve and maintain erections in the long run. If, say, a penis-owner fails to achieve regular erections, due to medical issues such as nerve or blood damage caused by diabetes, they may experience shortening of the penis. This is because, without regular erections, penile tissue loses its elasticity, prompting it to shrink by one to two centimeters.
12. Fact or Fiction: A Penis Park Exists in South Korea
Fact! Haesindang Park, aka Penis Park, can be found on the east coast of South Korea in the city of Samcheok. It's a space dedicated to everything phallic-shaped, composed of all different styles of artwork by various Korean artists. Here, you'll see everything from hanging arrangements to three-meter tall trunks of wood! Even the bright red lighthouse in the area is shaped like a penis! So, if you ever find yourself in South Korea, why not get a selfie whilst mounting the penis-shaped cannon?
Hopefully our little penis fact or fiction cheat sheet has helped you learn something new! Or, at the very least, induced a few cheeky giggles.